JPG Photo & Video
Engagement Photography—Let's set up your perfect date!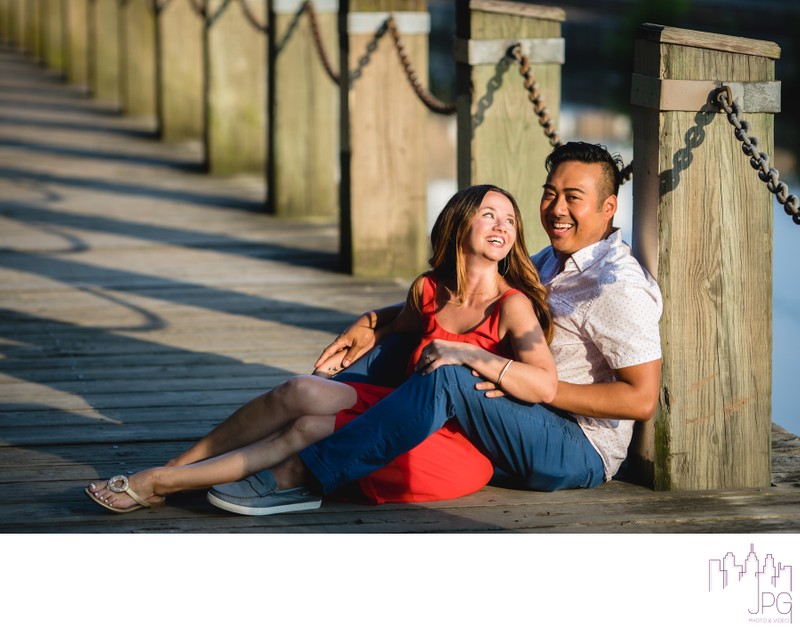 We want to make this shoot about you. What's your perfect date?
We like to think about engagement photography as the best date night you ever imagined with your significant other. Stroll hand-in-hand down Philadelphia's cobblestone streets, check out some incredible graffiti in a little-known alley, drop in at your favorite dive bar, or watch the sun set behind the Philadelphia Museum of Art. Our engagement photography promise to be the perfect blend of fun, romance, humor and sass.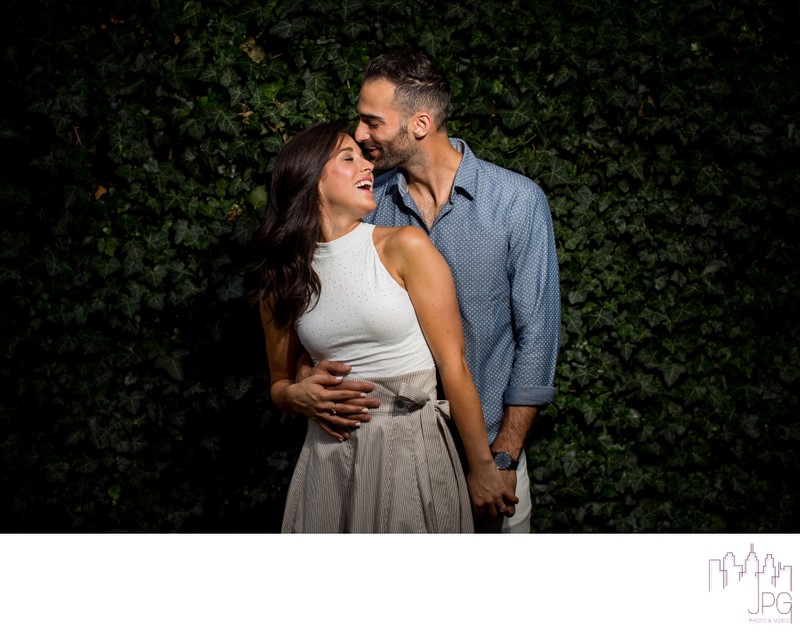 Tips, Tricks & Advice
Dress nicely, but not over the top. You want to look polished casual. And don't bring a lot with you. You're going to end up putting it down or handing it off to someone the whole time.

Make it personal. Incorporate your pets (but bring a handler!), your favorite shared activity (like cooking, biking, playing video games!), go to your favorite place to hang out together, or cozy up in your house. We want this shoot to be about you guys, and we are always down for any plan! Crazy stuff in fancy clothes? Awesome. Cuddling up with your 6 cats? Great. Splashing around in the ocean? We're in.

Permits—Do some research yourself and check with your photographer. Some outdoor landmark locations in Philadelphia 'require' permits for professional photographers to capture your special moments.

Be flexible, have a backup location plan and a rain date.

Be romantic. This is a moment celebrating the two of you, take advantage of that!

Have fun. This should be personalized and special for you both, but it doesn't always have to be so serious.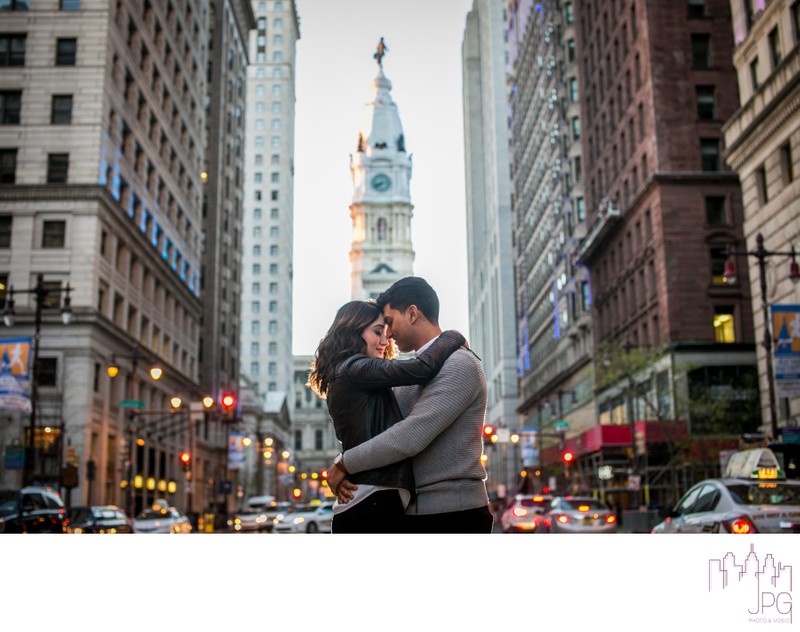 Philadelphia Engagement Shoot Location Ideas
At JPG Photo & Video, we recommend one or a combination of the following things to think about for the shoot:
A landmark in the city or surrounding area that you want to have as a backdrop (City Hall, Art Museum, Morris Arboretum, etc.).

A landmark of your life, such as the location you met, your favorite bar, the location you got engaged, etc.

An activity you enjoy doing together, such as biking, walking a dog (we love including pets when we can!), etc.

A theme: a night shoot, graffiti, a library, etc.
Elfreth's Alley—

If either of you love the historical aspect of Philadelphia, this spot is right for you. Tucked back in Old City, you could walk by and never even notice this beautiful street is there!

City Hall

/

Broad Street

—City Hall is full of beautiful architecture, and this is a good spot to go if you need a rain plan! Afterwards, you can go to the median on Broad Street and grab that iconic shot!

The Art Museum steps

—This is iconic Philly. Rocky anyone? The architecture at the Art Museum is hard to beat, and there's tons of spots for portraits, including skyline views!

Rittenhouse Square—Rittenhouse is gorgeous in every season, and has a nice 'hustle and bustle' city park vibe.
Waterworks & Boathouse Row—The gorgeous pavilion on the water here is a great spot. Just be careful on weekends...it's a wedding venue so you want to make sure you're not impeding on set up or an actual ceremony! Boathouse Row is right around the corner and can act as your back up spot!
Wissahickon Valley Park or Fairmount Park—If you are outdoorsy and active, these are great spots. Talk about an oasis right in the middle of the city! We suggest heading to Valley Green on your map for Wissahickon Valley Park. For Fairmount Park, we suggest checking out the

Shofuso Japanese House & Garden, the Horticultural Center (we LOVE it here!), or the Please Touch Museum,.
Philadelphia's Magic Gardens—Are you both into art? This mosaic-filled environment and community-arts center is a great spot to explore together. Make sure you call ahead so the staff can accommodate you.

Kelly Drive

—Spring, summer, fall, there always seems to be something in bloom along Kelly Drive.

Morris Arboretum or

Longwood Gardens

—There are endless opportunities for beautiful, natural backgrounds in these locations. These spots get crowded during tourist season though, so make sure you plan ahead!

Delaware River Waterfront— Spruce Street Harbor Park, Race Street Pier, or the newer Cherry Street Pier are all good options. Just check on permits for these locations, the people patrolling can be sticklers! You can also hop on a swan boat in season or have dinner aboard the Moshulu!

Independence Hall

—You can't get much more historical Philadelphia than this amazing location.

Franklin Square

—There's always something interesting going on at this great location!

Your favorite restaurant, coffee shop, brewery, or bar.

The place where you first met, or first kissed can make for a very special proposal.
Have fun!
---