JPG Photo & Video
Philadelphia Proposal Photography—Why it's worth it, and Making it Special!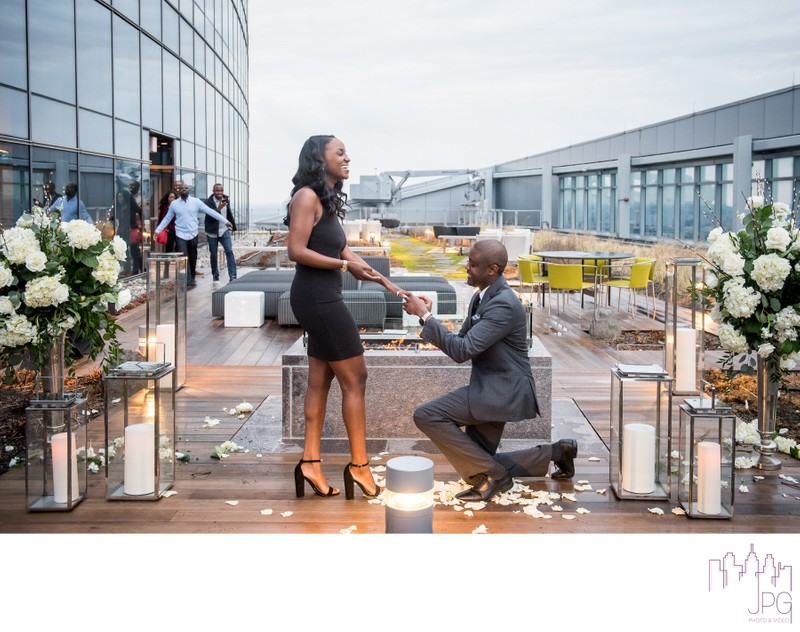 You have the ring, and maybe you've asked the parents.
The next step is to just...ask! We know—easier said than done. It has to be the right location, right time, right moonphase. Maybe you're plan is intimate at home with your pets and pizza. Maybe you've scored great reservations. Or maybe, you're planning a flashmob for all of Philadelphia social media to see. Whatever your style, you need trusted partners and a plan. The JPG team documents a dozen proposals every year. We are here to help you execute—secretly—so you get the 'yes!' you've been waiting for!
Why have a professional capture the proposal?
This moment can't be recreated. By hiring a pro, you get expert advice on execution, angles, and by showing your partner you really planned this out. No cell phone with a crappy zoom shall outshoot the JPG team. These are moments that become profile pictures for months. And with JPG, after you slip on the ring, it's time to get a few more great portraits to share the awesome news!
Ok, you convinced me my iPhone won't cut it. What's next?
Find those trusted few people who have proven they can keep this secret. When you bring on the JPG team, we'll share great tips – including how you communicate to make sure your partner-to-be doesn't find out. For example, don't list JPG in your contacts as "Proposal Photographer." Use our expertise to ensure a good time of day, location, and crowd size. The JPG team knows where to hide, and we'll have a backup plan to make sure we get the shot.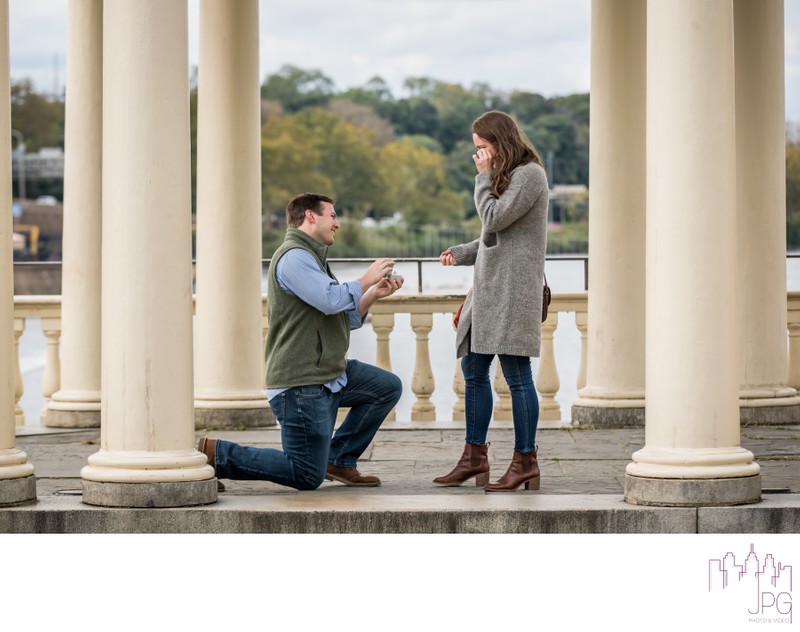 ---
Tips, Tricks & Advice
Light: The time of day matters to look your best in photos. The best light is often "golden hour" or that beautiful light about an hour before sunset. Maybe 12 noon sounds convenient, but it's some of the worst light to make you look good. Also, if you're thinking after sunset, then the plan should have some sort of lighting.
Location and Crowd Size: Your favorite museum or bar might seem perfect, but if you plan during a school tour or happy hour on a Friday, you might be overwhelmed with people out of your control. You don't necessarily want empty, but you don't want the outside world to detract from this moment. And make sure you visit the location before you settle on it. It would suck if there was suddenly construction or something in the way.
Access and involving others: We've had grooms-to-be plan their proposal on holidays or weekends when larger events would impede their plans. We can help you plan and pivot.
Weather: If you're planning something outdoors, have a backup plan. At JPG, we understand the need to be flexible due to rain or illness.
Have a backup plan, and be ready to stall or hurry. Remember, your partner doesn't know there is a big surprise, so they don't know you're on a schedule.
Attire: You should wear what feels comfortable, and what is appropriate for where you're proposing. Stay away from overly vivid/bright colors, neons, or overly detailed patterns. These are colors/patterns that often don't shoot well in any condition. Solids, or simple patterns are great, along with more earth tones.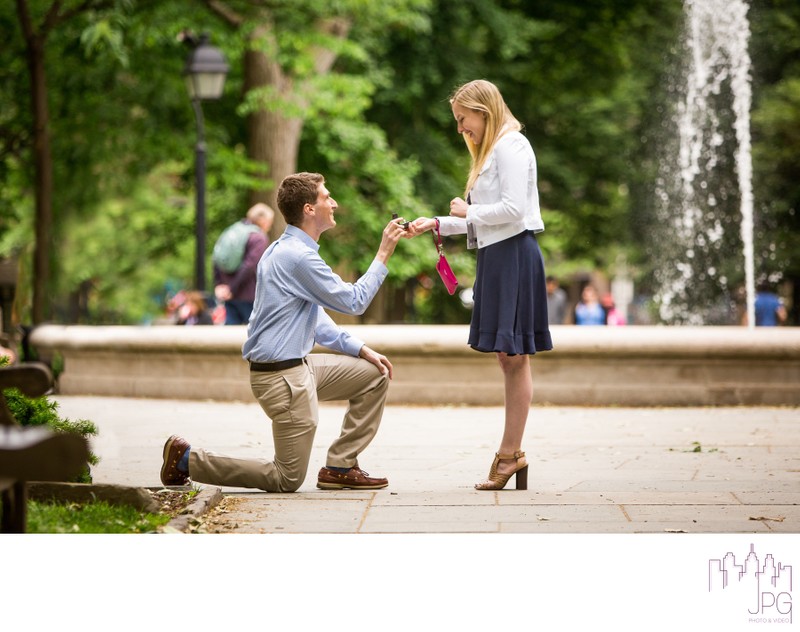 ---
Philadelphia Engagement Shoot Location Ideas
The Art Museum steps

—This is iconic Philly. Rocky anyone? There's also a great skyline view from the top of the stairs if you're more into that backdrop for your magical moment. The architecture at the Art Museum is hard to beat, and there's tons of spots for portraits after the moment.

Your favorite restaurant, coffee shop, brewery, or bar—Involve the staff at your favorite local joint. We suggest, however, that you don't put the ring in or on food....choking hazard anyone?

The place where you first met, or first kissed can make for a very special proposal.

Rittenhouse Square

—Rittenhouse is gorgeous in every season, and has a nice 'hustle and bustle' city park vibe. Find the right spot with your photographer where people won't walk in front of the shot.

City Hall

/

Broad Street

—City Hall is full of beautiful architecture, and this is a good spot to go if you need a rain plan! Afterwards, you can go to the median on Broad Street and grab that iconic shot!

Elfreth's Alley

—If you love historic Philadelphia, this spot is right for you. Tucked back in Old City, you could walk by and never even notice the street is there! It has a very European vibe if your partner is in to travel or history.

Waterworks

&

Boathouse Row

—The gorgeous pavilion on the water here is an amazing spot. Just be careful on weekends...it's a wedding venue so you want to make sure you're not impeding on set up or an actual ceremony! A great view of Boathouse Row is right around the corner and can act as your back up spot!

Wissahickon Valley Park

or

Fairmount Park

—If you are outdoorsy and active, these are great spots. Talk about an oasis right in the middle of the city! We suggest heading to

Valley Green Inn

on your map for Wissahickon Valley Park, or hit up one of the many parking lots along Forbidden Drive. If you're feeling like you're up for a real hike, head to Devil's Pool (though swimming is banned now!). For Fairmount Park, we suggest checking out the

Shofuso Japanese House & Garden

, the

Horticultural Center

(we LOVE it here!), the

Please Touch Museum

, or even the

Mann Center for the Performing Arts

!

Kelly Drive

—Spring, summer, fall, there always seems to be something in bloom along Kelly Drive. And if you find the right spot, you can get a great skyline view!

Philadelphia's Magic Gardens

—Are you both into art? This mosaic-filled environment and community-arts center is a great spot to pop the question. Make sure you call ahead so the staff can accommodate you.

Morris Arboretum

—There are endless opportunities for beautiful, natural backgrounds here. Definitely attend prior to the proposal. You want to know exactly where and when you'll end up for the proposal moment. This is another spot that can sometimes get crowded during tourist season, so make sure you plan accordingly.

Delaware River Waterfront:

Spruce Street Harbor Park

,

Race Street Pier

, or the newer

Cherry Street Pier

are great options for a riverfront proposal, just make sure to secure permits for these locations. Also, you can also hop on a swan boat or have dinner aboard the

Moshulu

!

Independence Hall—You can't get much more historical Philadelphia than this amazing location.
Franklin Square—There's always something interesting going on at this great location!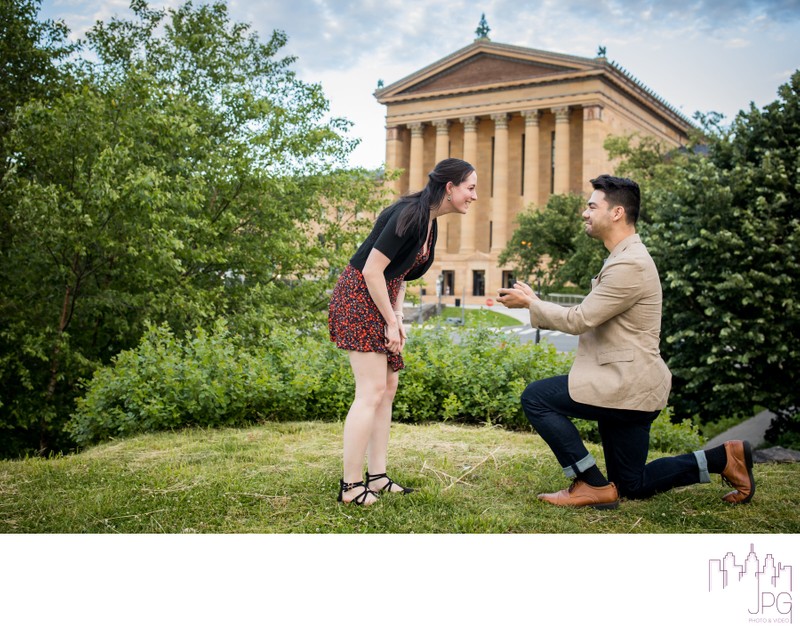 ---